We are Handmade Luxury and our Vision to be recognized with the some tag with our customers preferences worldwide.
At Tita, we are helping Customers to adopt handmade luxury sanitary to update lifestyle and comfort with innovation.
TITA SANITARYWARES PVT LTD is unique ceramic goods manufacturing company that belives in delivering quality goods to the users. Our designes have always been developed with consideration of end-user peace of mind.
The TITA range of products gives luxury to the bathroom with adore bathroom environment. Elements that respect your solo self in the bathroom.
With TiTA range we are launching Italian designs for fast-moving as well as exclusive producets. The range will boast of one piece closets, two-piece closets and wall hung. Products that have style and subsectence to make you feel elated on use.
Our products are designed to last the test of time, preserving the beauty embedded in them, very much like Titanium, they will give a luxurious touch to your life style. We have a wide range of portfolios to choose from according to customer preference.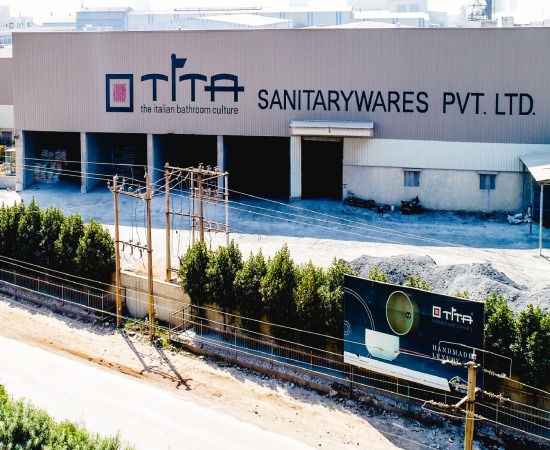 OUR INNOVATION AND DESIGN
Our wide range of products is eco-friendly which saves water up to 6 liters in each use as well nature. We made ceramic is more durable than other materials, which gives it a longer life.
At TITA, all product portfolios having categorized to the different customer according to customer usage so a customer can choose according to own preference. To give luxury to the bathroom experience.
TITA products are more hygienic than others as customers are no required to clean with chemicals every time so, customers can have more hygiene and sophisticated eye while use.
Start Up
1st time in india, osho sanitarywares starts production of 1pc toilet wallhung toilet and art basin with internationally popular designs.
Amazing Event
an amazing event happend in punjab for making strong market in North India..!
International Exhibition
An international exhibition took place in Dubai, Thailand, Europe, Uk for launching Tita in abroad market..!
Our 2nd Plant
The 2nd plant starts its production named TITA Sanitarywares Pct.Ltd. with more production capacity then Osho plant more than 1.5 times..!
Participated in ACE TECH
participated in ACE TECH for creating a market all over India.!
Participate in VIBRANT
Participate in VIBRANT (GANDHINAGAR) With Newly Launched Models and designs.!
Participate in VIBRANT Again
Participated in Vibrant for another time making India proud again with some tremendous and greatest designs
and models.!
Launched essential features
Launched an exclusive vanity cabinet with noncomparable and essential features.!
Tita made its place all over the world
With the amazing efforts and hard work Tita made its place all over the world in the meantime.
So much creativity so much realistic and many more to come.!!
WORLDWIDE ACCEPTANCE AND EXCELLENCE
TITA SANITARYWARES PVT Ltd. is proven to be the most apparent company in the international market. TITA Sanitarywares has made a name in itself by providing the verified quality products to its end-users. They have made a remarkable journey in the foreign market. Our company's principals have had many years of experience in sales, marketing, service & building industry.
We are coming soon into the position of market leaders all over the world and we will rule the world soon. To demonstrate our company's commitment to quality, our representative regularly sources products worldwide to provide a competitive advantage in appearance, quality, and price.